Unboxing The International Treasures
Yes, you heard it right; SA VISA CENTRAL wants you to explore all the treasures of careers and success in various countries through the careers and courses you aspire to.
To make this journey seamless and mesmerizing, we, the team of SA VISA CENTRAL, conducted a seminar on success abroad on 16th October 2022 in Hotel Asia Jammu.
If you are also ready to inaugurate your prosperous career and lifestyle in abroad, then this seminar's guidance and expertise are for you.
Consultation and Mentoring by Career Experts and Visa Immigration Experts
The event was marked by the presence of our honorable and esteemed Chief Guest:
Mr. Baldev Singh Baloris (MLC member of legislative council JMC Chairman)
Guest:
Mr. Nazakat Ali Choudhary Skill Program Counsellor), Mrs. Urja Singh (Social and Culture Activist) & Dr. Sushma Kaul (MD, Gynaecologist)
The seminar was oriented with the Lightening of the Diya Ceremony 🪔by our Chief guest and guest.
The event started with confidence boosting and overseas career guidance delivered by the director of SA VISA CENTRAL, Mr. Surjit Singh. Born and brought up in Jammu himself, he built his successful career in Singapore and has continued on the same journey for 25 years.🎯
The seminar was carried ahead by our Visa and Immigration Experts, Mr. Ramkumar P. and Mr. Maheswaram P. They gave students transparency in the processing of visa filing and processes along with the right countries that each student should adore and reasons for the same. Overall, the session was embarked on to print out the pathway of a prosperous future abroad with consultation by experts and not agents.
Understanding the Aspirations of Our Students
The event marked its success with the QnA session with students to grasp their mind from all the doubts and queries towards actions🚴. Our director and visa immigration experts addressed their questions individually in order to ensure that they gain more. Students had a bunch of questions in their minds and it seemed they are looking for  guidance that can bring their careers back on track.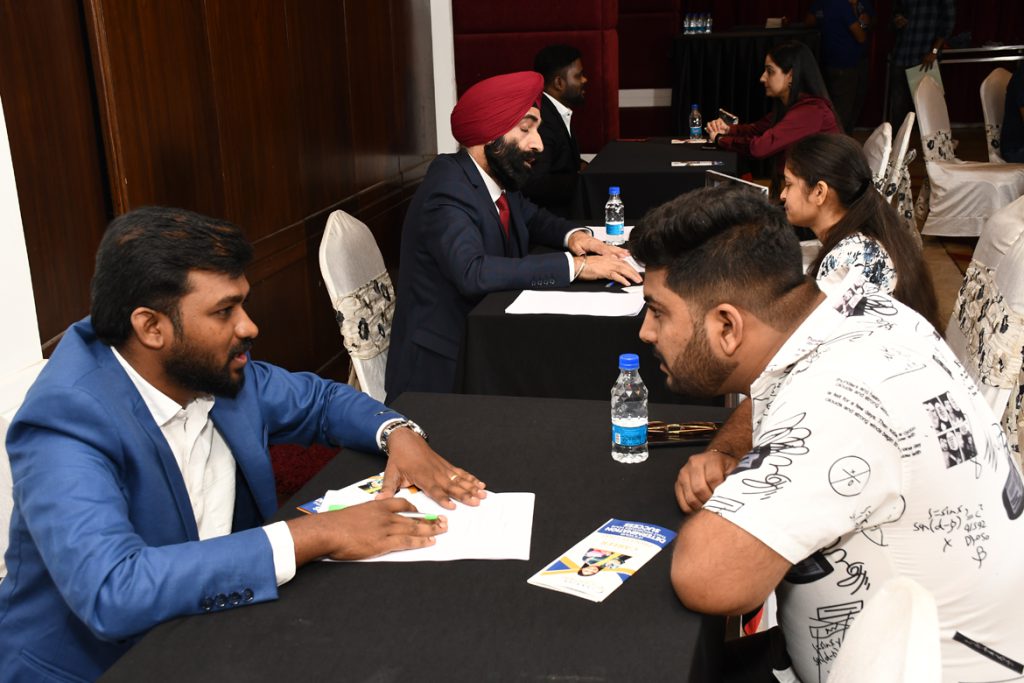 Key takeaways from the Seminar
Let us look at some of the significant & most common questions asked by the students from our experts who gave them the words of advice that paved them towards the right direction.
How and when to start your career abroad?
The question was addressed by our director and visa immigration experts with a stabilized answer to give clarity to the students. They explained the path and the direction to head in and with courses they should move ahead with.
Which Country and Course should I study in?
This question is the first in the minds of all international lifestyle and career seekers. Our director supported them with the factors each student should consider before deciding their country and course. They suggested one should always look out for the expenditure of education and lifestyle in countries and compare and contrast.
Who should you reach out Agents or Consultants?
One of the major takeaways from the session should be parents and students connect with agents or consultants. The answer to this is to say a big NO! to agents, as they are just willing to provide you with a visa without considering which course and country is the best fit for you.
So, if you are ready to redefine your future and career in overseas, connect with us to get the consultation that guides you with success at every step.
"You Should Choose Your Country; A Country Will Not Choose You!
-Mr. Surjit Singh